Dismiss Notice
Building on the success of last season, Madden NFL 19 pushes gameplay farther than ever before, with advances in popular game modes and control put solidly in the players' hands. At the forefront of these changes are the enhancements to player influence. Madden NFL 19 will deliver unprecedented control with Real Player Motion. RPM brings realistic character movements and animation variety, creating authentic movement unique to positions and body types that delivers game-changing control and precision on the field. For example, RPM allows you to "Hit the Hole" by finding an open lane, maneuvering around your opponent, and seamlessly running through the lane for that critical extra yardage.
Is there a game that you always wished someone would make, but they never did? Well, that's what we've been doing here at Sucker Punch for the last few years—building the game we've wanted for so long to be able to play. It's called Ghost of Tsushima.
​
Good Morning All, So we are officially one month from release date! (Unless your getting the Ronaldo Edition of course) The FIFA Admin/Mods are now starting preparations for the new league with some exciting new ideas being talked about.
Please put your forum name and PSN name down below if you are interested in joining the league
and more information will follow soon. If you are yet to pre-order the game and are thinking about using Amazon then please use this link:
https://www.amazon.co.uk/dp/B072JZB85B/?tag=vg0f1-21
Ordering through our affiliate link helps run the site so this would be greatly appreciated!
If you have been living under a rock for the last few months, all the latest information on FIFA 18 can be seen here:
http://www.vgforums.co.uk/threads/fifa-18.9542/
Looking forward to a new season, happy gaming everyone!
As Madden 18 is only just under a month away now, I wanted to start to gain interest of who is wishing to join. Please drop your name below and we will add you to the list. The season rankings will be posted just before madden 18 drops. The order in which players will get to pick there team will be dependent on commitment and skill. You will see when the list is posted that the players...
Powered by Frostbite, FIFA 18 blurs the line between the virtual and real worlds, bringing to life the heroes, teams, and atmospheres of The World's Game.
DRAMATIC MOMENTS
Score incredible goals in FIFA 18 as new movement and finishing animations unlock more fluid striking and heading of the ball. All-new crossing controls bring greater options to how you send it into the box. Whipped to the spot, arching deliveries, and pinged crosses to the back-stick will shake up your attacks in the final third.
REAL PLAYER MOTION TECHNOLOGY
The biggest step in game play in franchise history, FIFA 18 introduces Real Player Motion Technology, an all-new animation system that unlocks the next level of responsiveness and player personality. Now Cristiano Ronaldo and other top players feel and move exactly like they do on the real pitch.
TEAM STYLES
From tiki-taka to high press, new Team Styles put the most recognised tactics of the world's best clubs on the pitch in FIFA 18. Enjoy more time and space to read the play through New Player Positioning, while improved tactics give players greater options on the ball as teammates exploit space and make new attacking runs.
IMMERSIVE ATMOSPHERES
Authentic sun positions, cinematic atmosphere grading, signature pitch-side fixtures, on-pitch debris, club and stadium specific banners, adaptive commentary, and changes in pitch quality all come together to bring the most immersive football experiences to life in FIFA 18. Hear authentic chants as you attack, feed off the energy of new, high-def dynamic crowds and interact with your fans while celebrating.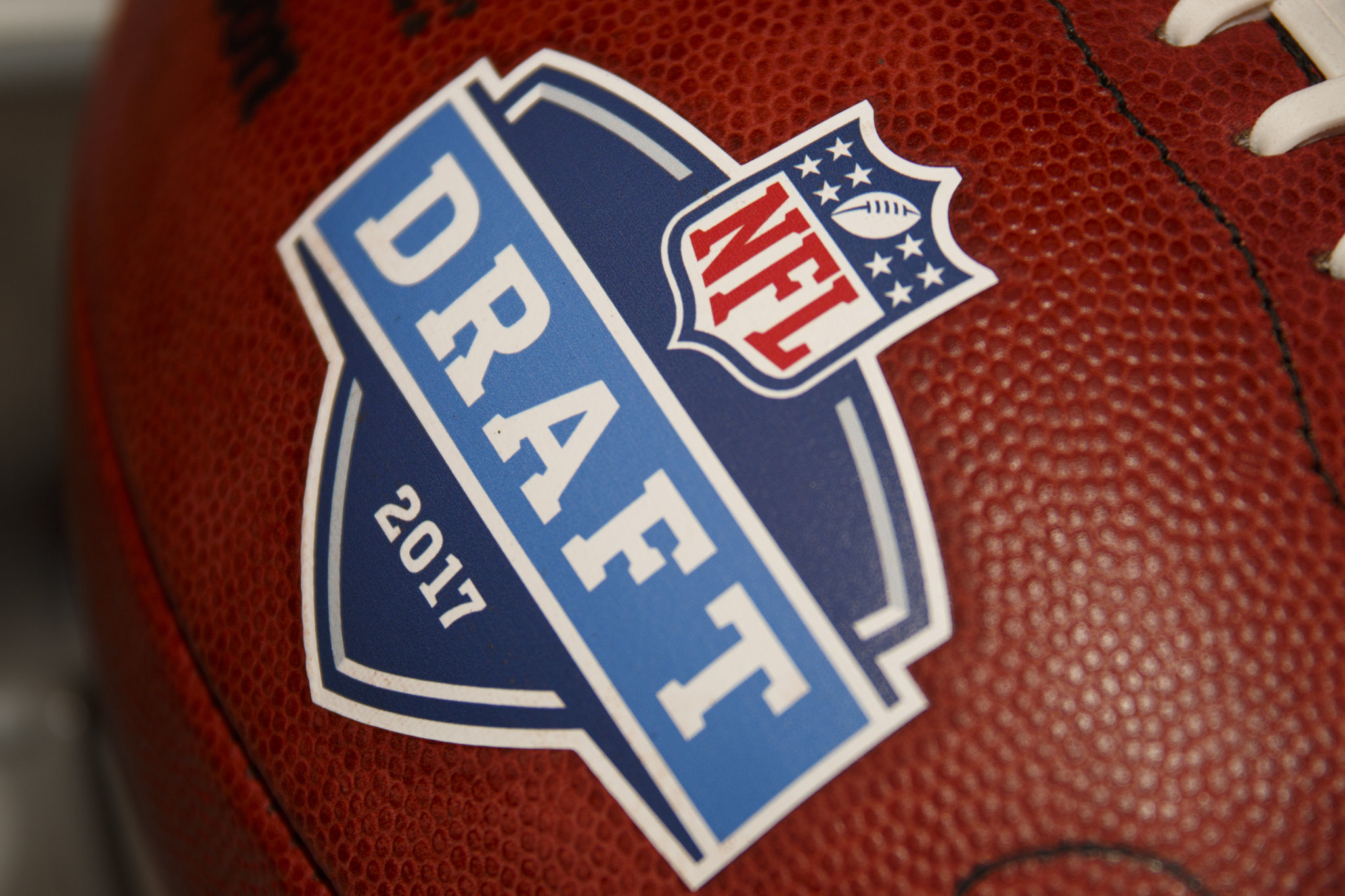 ​
The draft will always be one of them exciting times in the VGFL. A chance for a team to build a team that fits their desires and style and for managers to show their drafting skills. As the giants head coach, I did not have the luxury of being able to attend in the draft this season but that did not stop me from scouting and trying to work out who are the potential hot steels who could be the first few to grab. Having scouted 101 players, I identified the following as the top picks of the 2017 draft:
MLB - Macon Van Pelt - 83 Ovr - Star RE - Dillon Copeland - 81 Ovr - Star HB - Lyndell Booth - 79 Ovr - Slow MLB - Derron Wire - 77 Ovr - Avg ROLB - Austin Hamlin - 79 Ovr - Slow HB - Russell Lelie - 82 Ovr - Star WR - Nate Rouse - 78 Ovr - Star FS - Austin Kelce - 78 Ovr - Avg HB - Cason Dorsett - 81 Ovr - Avg LG - Zach Craft - 73 Ovr - Avg
My expectations for the top 10 were relatively good. 4 superstar players and over the 10 I choose, an average of 79. However below is the top 5 players:
MLB Macon Van Pelt (My Pick: 1)
Early on in the season 1 there was good review from the scouts about this player. A son of a legendary HS coach, there was huge expectations on his shoulders and it seems he got the 1st round pick that was expected. Having been picked by the Falcons, he could expect a playoff shot in his rookie season. With a lowish awareness and already 83 overall we can expect him to be a top ROLB in the future. Good blocking, power and power moves, get this guy running at the D line and all opponents will be under pressure.
HB Russell Lelie (My Pick: 7)
Russell has the quality to be a starter but currently understudy to Rawls who has a good season last year, it could be a slow start for this elusive rookie. He does not have the quickest acceleration but makes up for it in agility and his carrying ability. There were teams shouting out for a good HB and should try and grab him on a trade if they continue to struggle in the upcoming weeks.
ROLB Mike Hixon (My Pick: 11)
Quite similar to Macon Van Pelt he provide pressure to the D Line which I know was a struggle for the 49ers last season. He provide speed and the power to break through. One talent it not only does he bring the pressure but also could easily gain a fair few interceptions with great pursuit ability.
RE Dillon Copeland (My Pick: 2)
A Great O line rookie. Got the strength and block shedding and power moves to beat any guard. Will continue to get better and better and with the Chiefs you can be expected to go far.
DT JJ Woodard (My Pick: 56)
Maybe a strange pick for some but I just like what he will bring to the bears. Having good strength is key as a defensive tackle. If the bears continue to progress the player he can become a top DT.
VGFL Hall of Fame - Record Book Individual Records Offensive
QB Passer Rating (Must have attempted 150 throws): Davis Webb NYG
143.5
(M18 Season 4) - Hierro1994 QB Completion Percentage (Must have attempted 150 Throws): Cam Newton CAR
74%
(M17 Season 3) - Bartell QB Passing Yards: Nash Ulmer LAC
4645
Yards
(M18 Season 4) - Fazak QB Touchdowns: Aaron Rodgers GB...
Developer insomniac games of ratchet & clank is bringing spider-man to PS4. This is a more seasoned Peter Parker who's more masterful at fighting big crime in New York City. At the same time, he's struggling to balance his absurdly chaotic personal life and career. All while nine million New Yorkers depend on him for their safety… no pressure indeed.
​
Everything, everywhere changes. Change is an essential part of life. In creative development change is often the explosive spark that transforms
good enough
into
truly memorable
.