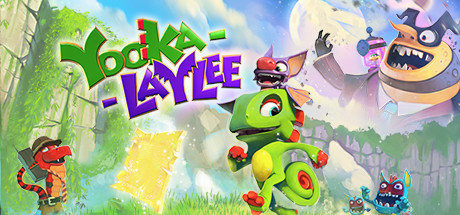 ​
Yooka-Laylee is a love letter to classic platformer-adventure games, from a team of veterans responsible for some of the genre's most iconic games. You can expect huge, beautiful worlds to explore, quirky characters to meet (and beat) and a vault-load of shiny collectibles to horde along the way. Oh, and a whole load of word puns.
​
Get hyped for the sequel to the hit game about splatting ink and claiming turf, as the squid-like Inklings return in a colorful and chaotic 4 vs. 4 action shooter. For the first time, take Turf War battles on-the-go via local multiplayer in portable play styles. You can also compete in frenetic online matches like before. Two years have passed since the release of Splatoon, and two years have also passed in the game world, leading to an evolution in fashion trends and new styles of weapons and gear. Staying fresh never looked so good.
​
Choose a fighting champion from around the world, equip your own combination of extendable arms, and then use a mix of button presses and quick hand motions to really take the fight to your opponent. Throw punches and guide them midflight to hit agile fighters, avoid incoming attacks with dashes, or trampoline high into the air to rain down fists from above. Power-up your punches to deal extra damage or curve your fists around obstacles to hit skittish opponents. Fill up your special gauge to dish out devastating combinations and finish them off. Unleash your inner fighter in this unbelievable sporting event!
​
Marvel vs. Capcom: Infinite will feature a variety of exciting and accessible single player modes and rich multiplayer content for new players and long-time fans alike. In addition to single player Arcade, Training and Mission modes, a visually stunning and immersive cinematic Story Mode will put players at the centre of both universes as they battle for supremacy against powerful forces and a new villain.
​
The award-winning Real Driving Simulator series speeds onto PlayStation 4 for the first time, putting you on course for high octane thrills to truly get your pulse racing. Sharing the wheel with FIA (Federation Internationale de l'Automobile), Polyphony Digital has engineered a finely tuned and accessible game that everyone from casual drivers to petrol heads can enjoy. Buckle up for two online championships – represent your country in the Nations Cup, and drive on behalf of your favorite car maker in the Manufacturer's Cup. Can you claim a historic victory in the first video game to be officially recognized as part of the real motoring world?